Prof. Dr. Jing Wang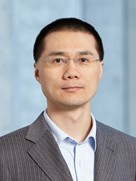 Laura-Hezner-Weg 7
8093
Zürich
Switzerland
Additional information
Research area
Jing Wang's main research interests include air pollution control, nanoparticle transport and emission reduction, instrumentation for airborne nanoparticle measurement, air and water filtration, and mechanics of multiphase flow. Many of his studies contribute to understanding of environmental, health and safety (EHS) impact of nanomaterials.
Curriculum Vitae
Jing Wang has been Assistant Professor of Industrial Ecology and Environmental Engineering, at the Institute of Environmental Engineering in the Department of Civil, Environmental and Geomatics Engineering, since 2010.
He was born 1979 in Baoji, China.
He studied at the Tsinghua University, in Beijing (China) and obtained his Bachelor degree in 2000. He continued his studies at the University of Minnesota, Minneapolis, MN (USA), and received the Master degree in computer sciences in 2003 from the same university.
Jing Wang earned his PhD degree in Aerospace Engineering at the University of Minnesota in 2005. Following this he worked as a postdoctoral associate in the Particle Technology Laboratory, Mechanical Engineering at the University of Minnesota. He became a Research Assistant Professor in 2007 and served as the lab manager for the Particle Technology Laboratory from 2007 to 2010.
Honours
| Year | Distinction |
| --- | --- |
| 2011 | Smoluchowski Award conferred by the Association for Aerosol Research (Gesellschaft für Aerosolforschung, GAeF) |
| 2006 | 'Best Dissertation' Award in Physical Sciences and Engineering, University of Minnesota |
| 2004 | Doctoral Dissertation Fellowship, University of Minnesota |
Additional information
Jing Wang has collaborated with industrial partners on nanoparticle measurement, nanoparticle emission and exposure, air and water filtration, micro-contamination, etc. These industrial partners include 3M, BASF, Boeing, Cummins Filtration, Donaldson, DuPont, Entegris, Hollingsworth & Vose, Intel, Samsung Semiconductor, Sematech, Shigematsu Works, TSI, and W. L. Gore.